Although the market still has many challenges mixed with opportunities, but the paper industry still has plans to expand production - business. Moreover, the prospect from Free Trade Agreements (FTAs) is expected to increase export opportunities for paper enterprises.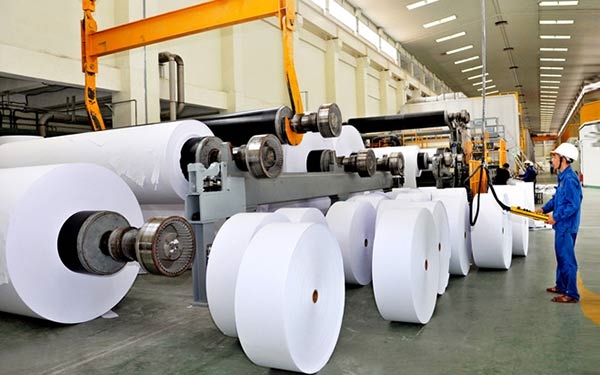 Paper enterprises are still investing to expand production to catch opportunities from FTA
Businesses still have difficulty
According to the Vietnam Pulp and Paper Association (VPPA), there are more than 300 enterprises in the field of paper production nationwide, most of them are small-scale less than 100,000 tons / year. However, the situation of paper production, trading, and export over the past time has grown positively, export activities have been maintained and grown. Therefore, in the last months of the year and the beginning of the following year, packaging paper has many prospects when exporting to China due to the rapidly recovering economy of this country. Tissue exports also have a very good outlook as global demand remains high due to the impact of the Covid-19 epidemic. However, due to weak demand in the area and high inventory and fierce price competition, business still faces many difficulties.
With the positive trend of the market, the business results of paper enterprises have clearly differentiated, while many enterprises still record large profits, but also small and medium enterprises have difficulty. The Board of Directors of Dong Hai Ben Tre Joint Stock Company (DHC) recently planned to submit to the extraordinary General Meeting of Shareholders early next month on the increase in revenue plan to 15%, from VND 2,338 billion to VND 2,680 billion and after-tax profit increased by 50%. , from 200 billion VND to 300 billion VND. Currently, in the first 9 months of 2020, DHC has achieved net revenue of nearly 2.022 billion dong and net profit of 237 billion dong of net profit, 2.6 times and 3.1 times of the same period, respectively. According to DHC's management, this result is thanks to Giao Long Factory - phase 2 came into operation at the end of last year, production and consumption increased sharply.
As for Hapaco Group Joint Stock Company, in the first nine months of 2020, it recorded VND241 billion in revenue, and pre-tax profit of VND 15 billion, all slightly decreasing compared to the same period last year. However, only in the third quarter, this company had a strong growth of 23.4% over the same period in terms of profit after tax. According to Hapaco's management, the reason is that in the third quarter, despite many influences from Covid-19 on business, member enterprises have tried to maintain production and business, develop markets to consume products. in the country, minimizing costs ... so the result of profit increases compared to the same period in 2019.
For small and medium-sized paper enterprises, the production - business situation is not really satisfactory. According to Mr. Ha Ngoc Hoa, Vice Chairman of Bac Giang Import-Export Joint Stock Company, if in previous years, the company produced and exported paper with an average value of up to 7 million USD. The planned targets all achieved the growth rate of more than 10%. But this year, before the "storm" of Covid-19, business was heavily affected, with exports plummeting. Moreover, not only Covid-19, the export activities of enterprises also suffer due to the sharp increase in container prices of 3-4 times compared to before, paper is a commodity that consumes a lot of space and consumes many containers, thus affecting big revenue of businesses.
Expectations from the FTA
According to VPPA representative, in the last months of the year, paper exporting enterprises have to face challenges from price competition with imported paper from Indonesia, China, Thailand ... Especially, due to the situation of labor lost jobs, Enterprises have to temporarily close or completely close their doors to increase rapidly, people tighten their spending ... so the demand for printing paper, writing paper will also decrease. Packaging paper exports to markets in Indonesia, Philippines, India, Africa, Japan, and Western Europe are also forecast to shrink.
However, enterprises still do not let the above challenges affect production and business activities, but still try to invest in maintaining production. Recently, Hapaco Group has decided to invest in expanding the tissue paper production line with the expectation that it will bring business efficiency. The Board of Directors of Viet Tri Paper Joint Stock Company has approved a plan to invest in an additional packaging paper production line with a capacity of 100,000 tons / year. Bac Giang Import Export Joint Stock Company also invested in expanding factories, machines, production lines as well as upgrading equipment ...
In particular, the paper industry is placing high expectations on FTAs ​​that Vietnam has signed, is and will be signing. As recently, the signed RCEP Agreement will create a change in the application time and tariff rates for some types of paper and paperboard, many countries will keep the same tax rates, and also have a roadmap to reduce or lower about 0% of tax rates for paper, paperboard ... Mr. Ha Ngoc Hoa hopes that participation in these FTAs ​​will help enterprises increase their export by 2-3 times compared to before when tariff barriers are removed, helping businesses Enterprises that meet the rules of origin can export, including small and medium enterprises. However, Mr. Hoa emphasized that these expectations can only be achieved when the Covid-19 epidemic ends or the world has vaccines against epidemics, otherwise export and international trade will still be at a disadvantage. .
Source: haiquanonline.com.vn